Things Almost Everyone Forgets to Clean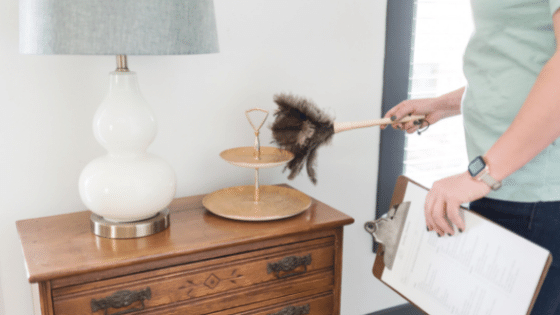 5 Things Almost Everyone Forgets to Clean
When it comes to cleaning, some tasks such as making the bed or mopping the kitchen floor, are on everyone's to-do list. Then there are those that practically everyone overlooks, and before you know it, you haven't cleaned the crumb tray since you bought it. Don't worry. Maid for Muddy Paws is here to refresh your memory. Here are five household things almost everyone forgets to clean.
Can Openers
We can probably assume that you've never cleaned your can opener! Whether it's an automatic one or a handheld opener, it needs to be cleaned. Research points to can openers harboring pathogens such as salmonella and e.Coli. Here's how you can properly clean it: 
Rinse the can opener with hot water and dish soap after each use, making sure to clean the gears and cutting wheel. Then dry it with a dishcloth and air dry it with the handles open to allow air to flow and avoid rust.

If you haven't been cleaning your can opener on a regular basis, clamp the wheels into a thick piece of paper towel and twirl the handle to assist remove any residue.

One teaspoon bleach in 1 gallon of boiling water is enough to disinfect. Spray the mixture over the components, then wipe down with a cloth. The can opener should be rinsed and dried.

Once the can opener is totally dry, use a clean cloth to apply a small quantity of food-grade mineral oil on the gears to prevent rust.
Crumbs from the Toaster Tray
It's now time to decrumb your toaster! If you get a burning smell when toasting bread, it's probably the crumbs burning. Cleaning your toaster tray is super fast and simple. You won't need a Magnolia housecleaner for this one! Follow these steps:
Look for a pull-out handle at the bottom of the toaster. Remove the tray with care and dispose of the crumbs in the trash can or sink.

If necessary, wash the tray with warm water and dish soap before completely drying and restoring it.
Plant Leaves
You may think you take good care of your houseplants, but do you clean their leaves? Dusting your houseplant's leaves not only makes them look clean and shining, but it can also help them get more sunlight, which aids in photosynthesis. Here's how to clean plant leaves so you can have a lovely, healthy houseplant.
The simplest method for cleaning plant leaves is to gently wipe them with a damp cloth while gripping the underside of the leaf to support it. Plants with small leaves, such as succulents, can be misted with water using a spray bottle.

To make the plant leaves shine, avoid anything oily that may collect additional dust. Instead, add half a lemon juice to a pint of water. Dampen a cloth with the solution and clean the leaves with it. Because lemon juice is acidic, it prevents mineral deposits from drying on the leaves, leaving them attractive and lustrous.
Light Bulbs
Most people don't think to ever dust their lightbulbs. Before your eyes gloss over this one, you should go look at your nearest lamp. You may be surprised by how much dust has accumulated since your last residential cleaning service. This task can take some time if you have a lot of lights in your home. To clean your light bulbs, the best Magnolia cleaners recommend completing the following steps:
Turn off the light

Dust each bulb with a dry towel.

If any tenacious residue remains, remove the bulb and wipe it with a slightly damp cloth, being careful not to introduce water into the bulb's electrical workings. Before replacing the bulb, thoroughly dry it.
Air Vents 
The last item that virtually everyone forgets to clean in their home is the air vents. Our friends at Gilmore Heating and Air, a company that offers air conditioning services in Sacramento, say that you should be replacing your air vents every 2-3 months or once a month if you have pets. Note: some air vents are not reusable, but if they are, here's how to clean them:
Remove the dust from the air vent with your vacuum's nozzle or brush attachment.

Before unscrewing the air duct cover for a thorough cleaning, turn off your heating or cooling system.

I am using a microfiber cloth or a soft brush, dust both sides of the grate. Before replacing each vent cover, thoroughly rinse and dry it to prevent dust from adhering to it.
Cleaning can be the last priority for many families, especially if they have a busy schedule. Don't put your cleaning needs on the back burner. Contact Maid for Muddy Paws to sign up for our quality cleaning services in Magnolia, TX!