DIY Shower Curtain Cleaning Tips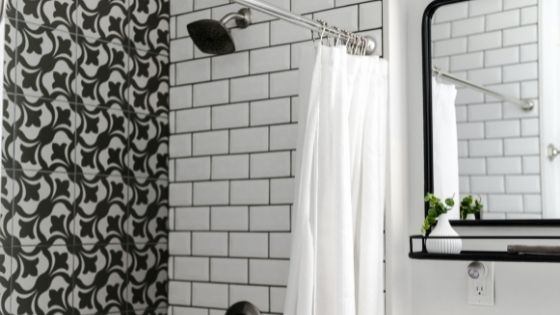 DIY Shower Curtain Cleaning Tips from Magnolia House Cleaner
Many people replace their shower curtains or liners when they become stained or discolored. Next time you go to throw away your old shower curtain, try cleaning it first. You can do several things to clean your shower curtain and restore it to its original sparkle. This may take time, but it'll save you money! Note that there are several reasons why your shower curtain is getting dirty. Below, our Magnolia cleaners discuss a few DIY shower curtain cleaning tips. 
Cleaning Tricks for Soap Scum
The first step to cleaning your shower curtain is to identify the problem. There could be several reasons why your shower curtain is dirty. As a result of soap scum, draperies can appear murky and disgusting. Soap accumulation and mineral deposits combine to form this white filmy layer of dirt on the surface of the water. This is the main reason why your bathroom can appear dingy. Not to mention that mildew can grow at fast rates in the shower. 
Hard water stains frequently persist on your shower curtain, causing it to get obscured and discolored in the process. Calcium, limestone, and magnesium, which are present in your water supply, are responsible for the formation of these nasty patches. Hard water stains appear more frequently in water that has high concentrations of these minerals. The combination of these issues can result in a shower curtain that is dingy and stained. If you don't want to spend time cleaning your home, you can always contact Maid for Muddy Paws for residential cleaning services.
Here are DIY shower cleaning solutions:
Cleaning Plastic Curtains with Baking Soda
Soap scum is not difficult to remove, especially when it is on plastic. After removing the shower curtain from the shower pole, lay the plastic down on the ground or on a table to avoid dripping. Grab some baking soda, a microfiber towel, and you will be able to simply brush away any grime that you observe. Simply soak the cloth and sprinkle baking soda on it, then rub away the stains and mineral deposits to reveal a clean cloth again.
Most professional cleaning companies recommend that you use warm water to rinse the plastic, and any parts that are still dirty should be cleaned again. Reinstall your newly cleaned shower curtain, and enjoy!
How to Clean Plastic Curtains in a Washing Machine
It is acceptable to use the washing machine procedure if you are crunched for time. Put your curtain in the washer with a couple of towels and add either vinegar, baking soda, or a gentle laundry detergent to soften the water.
Note: Make sure you don't mix certain cleaning products together because it can cause a chemical reaction. Additionally, avoid setting your washing cycle to extra hot water because it could melt the plastic.
Immediately after the rinse cycle in your washing machine is complete, return the shower curtain to the rod and rinse thoroughly. It will remove the majority of hard water stains and soap scum from your plastic curtain, leaving you with a clean shower curtain.
Bucket Method
Grab a bucket, your shower curtain, and a scoop of your favorite powdered bleach. Fill your bucket with the curtain, add warm water, and then the bleach. Wait several hours before draining the water. You may empty your bucket in the shower. Rinse thoroughly, and it's as good as new!
When Should Your Bathroom Curtains Be Cleaned?
Do you share a bathroom with several people? You may find yourself cleaning your shower curtains more often than you anticipated. Pro tip: make sure your shower curtain is able to dry thoroughly. Otherwise, you'll find yourself cleaning your shower curtain every week. Our Maid for Muddy Paws cleaners recommends cleaning your shower curtain before it gets bad. The DIY shower curtain cleaning methods above shouldn't take long. So, if you find yourself spending too much time cleaning your shower curtain, clean the curtain sooner. Not able to clean your shower curtain? Start with a new one and try to maintain it!
Mid for Muddy Paws is happy to help with all of your cleaning needs. We offer Katy Cypress and Magnolia cleaning services. Be sure to follow us on our Instagram and Facebook to keep up with our latest updates.