Bathroom Deep Cleaning Checklist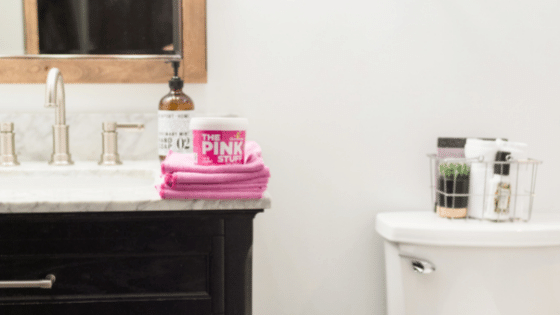 Bathroom Deep Cleaning Checklist
Your home is like your own oasis. When life gets busy, it can be hard to make a clean house a priority. Deep cleaning is often put on the backburner. Unfortunately, deep cleans require more than just a quick tidy-up. Our Maid For Muddy Paws team is here to help. Below, we've provided you with a bathroom deep cleaning checklist in hopes of making your cleaning to-do's a little easier. Follow along to learn what you should include in every deep cleaning. For the best cleaning services, give us a call!
How Many Times a Year Do You Deep Clean?
Magnolia residents often ask us how often they should be deep cleaning their homes. There are many approaches you may take to begin incorporating deep cleaning into your home maintenance routine. If you've done some spring cleaning before, that's fantastic! Spring is the ideal season for decluttering, cleaning, and organizing, but you can also deep clean more often than once a year. Seasonal cleaning, or one weekend deep clean every three months, works for many families.
 Another choice is to divide your deep cleaning checklist into smaller monthly or weekly tasks, tackling one room per month or 1-2 tasks per week, so you can work on it on a regular basis. It all depends on how messy things get in your home. The more people who live in a house, the more often it should be deep cleaned. If you have a bigger household, break up the cleaning tasks. Consider assigning a different area of the house to each individual.
Cleaning Solution
If you're cleaning your home yourself, you'll want to include these natural products. Baking soda paste and vinegar spray are excellent for deep cleaning your bathroom. The baking soda paste is super simple. Use one cup of baking soda and add water here and there. The end result should be a pasty substance. 
When making the vinegar spray, begin with one cup vinegar and one cup water. Make as much as you need to complete your bathroom deep cleaning. Place the solution in a spray bottle and follow the bathroom deep cleaning checklist. 
If you are sensitive to the smell of vinegar, you can dilute it with a few drops of any essential oil (such as citrus or lavender). If you can't find essential oils, squeeze a fresh lemon.
Find the gallon jug of white vinegar and the big bag of baking soda. Buying multiples of the standard-sized boxes are great, but the big bag is more cost-effective if you can find it at your local store. Although vinegar is excellent for washing, it does not disinfect the area, says our maids in the Woodlands, TX area.
Pro Tip: The Pink Stuff is our go-to cleaning product. It truly is magical. 
Deep Cleaning Your Bathroom
Bathrooms are one of the most commonly visited areas in a home. They can get dirty pretty quickly. Follow our bathroom deep cleaning checklist to ensure your bathroom is spotless.
Bathtub & Fixtures
If soap and water aren't making your bathtub and fixtures clean and clear of soap scum, use the baking soda paste and a wet cleaning brush. Old toothbrushes are great for scrubbing the bathtub or fixtures. Top it off with a microfiber towel, and your bathroom will be as good as new!
Clean Your Showerhead 
Um… have you ever cleaned your showerhead? Most people haven't. You'd be surprised by how much mold and gunk can build up. Most house cleaners will recommend soaking your showerhead in vinegar overnight. You can either remove the showerhead or wrap a bag around it. If your showerhead looks too far gone, we recommend replacing it with a new one and adding this step to your bathroom deep cleaning checklist. 
Grout
The same method can be used to clean grout. If baking soda alone isn't cleaning your grout, try the vinegar solution we mentioned above. When the baking soda reacts with the vinegar, it will begin to bubble, which will aid in the removal of the stains. When washed, scrubbing and rinsing with warm water are recommended.
Cleaning the grout can be the most time-consuming task. Many homeowners would rather spend their time doing anything else but house chores, say our friends at Specialized AV, one of Sacramento's finest home automation companies. We can understand why more homes are using smart technology as a second helper. The same can be said for house cleaning. You can always hire someone to do the things you don't want to do yourself. 
Shower Curtains
If your shower curtain is made of cotton, wash and dry it according to the manufacturer's instructions. If your shower curtain liner has seen better days, toss it and replace it as required. Most plastic shower curtains and shower curtain liners can be washed on the delicate cycle in your washing machine, making cleaning such a large object much simpler. Until washing, remove the metal hangers and allow to air dry. 
Deep Cleaning Services Magnolia, TX
The bathroom deep cleaning checklist above may be short, but it's usually add-on's to your weekly cleaning checklist. We recommend searching for maid service Magnolia, TX. From there, you'll see that Maid for Muddy Paws provides the best residential cleaning and commercial cleaning services in all of Texas! Contact us today for an estimate on our cleaning.